Media: Documents, videos and photos
Media Inquiries
email: mrcinc@interlog.com
telephone: 705-812-0643
In the media, 2006
Globe and Mail, December 16, 2006
Toronto Star, April 6, 2006
Information and Privacy Commission
Orders and Correspondence
May 13, 2009 order Simcoe County told to obtain the Modflow from consultant Jagger Hims. The order outlines the history of just one aspect of Site 41 opponents' continually blocked efforts to work within the system to expose how dangerous this dump will be.
Rosenthal-Reid Opinion on County liability
August 21, 2009 Information and Privacy Commissioner Order MO-2449
*Click Here To Read*
Oct. 29, 2009 Simcoe County to IPC re stay of IPC order
Nov. 17, 2009 Simcoe County lawyer to Stephen Ogden re Genivar deal
Nov. 18, 2009 Ogden lawyer rejects Genivar deal
Dec. 8, 2009 IPC ultimatum to Simcoe County
Feb. 12, 2010 IPC stays orders pending judicial review
County managers in court
Other Correspondence
Feb. 25, 2008 CMC Chair Ray Millar to Environment Minister John Gerretsen re Site 41, MODFLOW, Adams Mine Lake Act etc
Kawartha Nishnawbe First Nation Letter to Simcoe County  *Click Here To Read*
Council of Canadians Letter to Simcoe County August 20 *CLICK HERE TO READ*
Speech by Tiny Township Mayor Peggy Breckenridge, introducing moratorium motion at August 25 meeting of Simcoe County Council
Videos
Short Documentary on Dump Site 41 – Posted Sept. 18, 2009
Protecting the Waters: Six Arrests – August 17, 2009
The Day Before the Vote: Tony Guergis Posts Interview on YouTube
Moratorium Vote at Simcoe County August 25, 2009
August 13 rally in Toronto
"This is not a garbage issue" Some 500 people attended the Council of Canadians rally, moderated by Dale Goldhawk. and addressed by Stephen Ogden, David Crombie, Charlie Angus, Keith and Ina Wood, among others. Thanks to "nefarious" for video-taping and loading the video onto his site and Youtube. The video is 2 hours and 18 minutes long.
Interview with the Woods
'We don't have another Earth' Retired farmers Keith and Ina Wood, 82 and 76, talk about their activities in the Site 41 protest. Police allege their actions were criminal and charged them with mischief the day after this interview. "I said I was only doing what I should be doing as a responsible citizen," Ina told the cop. "That didn't seem to cut it at all."

July 25 Rally for a Moratorium in Perkinsfield
Blue Wave People Emceed by broadcaster Dale Goldhawk. In order of appearance: Vicki Monague, Shelley Essaunce and John Hawk of Beausoleil First Nation; Judith Grant of the Federation of Tiny Township Shoreline Associations, MP Charlie Angus, MP Bruce Stanton, Georgian Baykeeper Mary Muter, Tiny Township resident Stephen Ogden, writer William Allen, Tiny Township cottager David Crombie, UN advisor on Water Maude Barlow, Sandy Agnew of Zero Waste Simcoe. See also report on this website under Latest News and Updates, July 25 – Huge Rally attracts 2,500.
Protesters and Gerretsen in Toronto
The 411 on Dump Site 41 from NOW Magazine on Vimeo.
Tony and the Dump
Site 41 Drum Song
 Poetry
Lifeblood of the Universe by Bianca Lakoseljac
 Bounty in every way.
Wheat and barley groaning to weight of harvest
corn so high the crows give a wide berth
fields of soy hugging distant horizon
clover meadows cloaked in purple glory
bejewelled in honey bees on quest for golden mead. .. MORE
  


 

 

 

 

Google Maps
Photos
Be a Hero
Memories of the Toronto Rally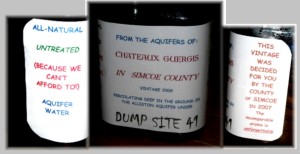 Reminder: Next Ontario Municipal Election November 8, 2010.  Here's one candidate to think about:
Sept. 12 water ceremony at Anishinabe Kweag protest camp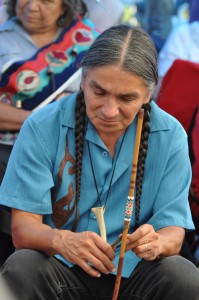 The protest camp
July 25 rally in Perkinsfield
Danny, Stephen and John at Cardinal Carter Catholic High School in Aurora
Protests
Important Information